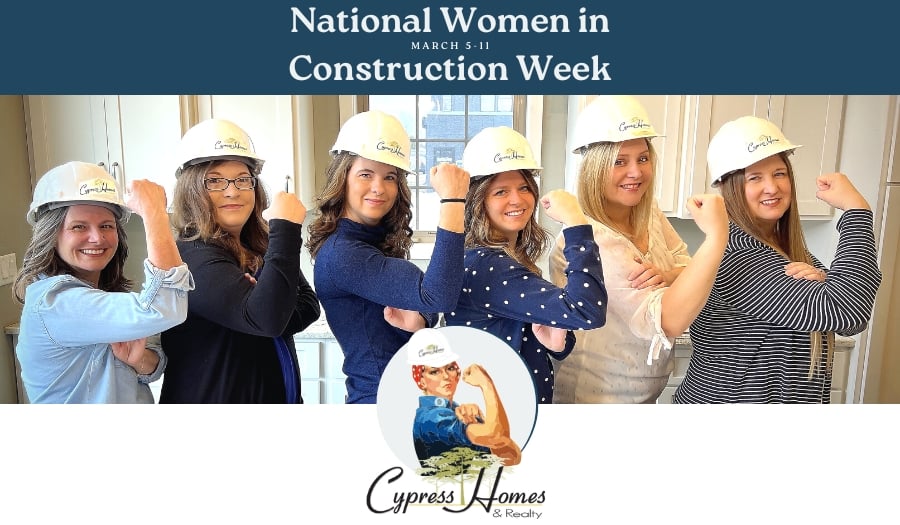 National Women in Construction Week
---
Shannon Meyer, President of Cypress Homes Inc., is excited to celebrate all Women in Construction the week of March 5th-11th. Meyer took over leadership of the home building company in October, 2021, from Mike Blank who had started the Fox-Cities based business in 1994.
"We have incredible women within all aspects of our company, including: Sales, Bidding & Estimation, Warranty, Design and Finance" says Meyer. "Our entire team is dedicated to the concrete goal of helping customers build beautiful homes at affordable price points."
Some of Cypress Homes' trade partners employ and are led by women. These trades include skilled labor, such as siders and painters, to suppliers such as cabinet, countertop, millwork and closet companies. Meyer believes that women are an essential part of the solution in addressing the labor shortage throughout the industry. Making more women aware of the numerous job opportunities available to them. "These opportunities are not often presented or introduced to young women early on, but they can certainly be an attainable and secure career," Meyer added.
"I couldn't be more proud to be along for the ride for Shannon's journey to becoming president of Cypress Homes. Her dedication and hard work has always been something to admire. Now in her new role she is paving the way for more women in the industry to have the confidence that they too can succeed in the construction industry, " says Cassie Hintzke, both colleague and long-time friend of Meyer.
Sara Hebert, Assistant Vice-President and Mortgage Lender with Nicolet Bank shared her story regarding her professional relationship with Meyer, "When I started in the industry 30+ years ago women holding decision making roles were almost nonexistent. Watching Shannon and Cypress Homes cultivate a successful culture of empowering women in a male-dominated business has made me extremely proud. Shannon and her crew are paving the way for the current and next generation of women in the construction field by showing their success in this industry and, at the same time, mentoring and inspiring other women to dive in and be a part of the business."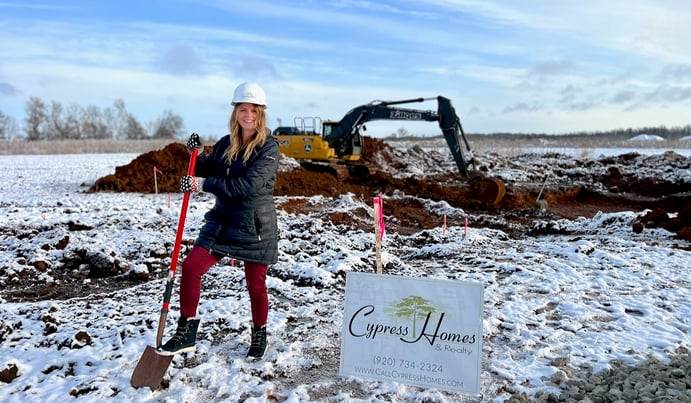 Meyer at Dig Day in Auburn Estates
Under the new guidance and passion of Meyer, Cypress Homes recently started the development an exciting project in Grand Chute, Auburn Estates. "Larger lots in the Hortonville School District with Grand Chute taxes is something we thought the market was lacking. We've also included all the infrastructure: streets, lights, sidewalks, curb & gutter. We're beyond excited to roll out this new subdivision and look forward to building both model and custom homes on these beautiful and spacious lots", says Meyer.
Meyer's advice and knowledge is seen across the industry, and she's been quoted in various other local publications as well, including Insight Magazine and Fox Cities Magazine discussing the current build market in Northeast Wisconsin. Cypress Homes success hasn't gone unnoticed either, winning Best of Valley for the third year in a row in 2022.
This post was written by Josh Sanders